view
The New Iranian Hostage Crisis
Captives should be freed, but not as pawns in a nuclear deal.
by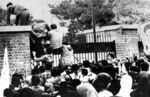 When the family of Amir Hekmati, an Iranian-American Marine, learned he was taken prisoner in 2011, the State Department told them to keep quiet. Family members were told Amir would be in greater danger if they went to the media than if they remained discreet.
That silence now looks like a mistake. In testimony Tuesday before Congress, Sarah Hekmati, Amir's sister, said, "Our family learned later that our silence allowed Amir to suffer the worst torture imaginable." A National Security Council spokeswoman declined to discuss the specifics of the government's conversation with the Hekmati family.
The Marine's torture was both physical and psychological. Amir's feet were beaten with cables. His kidneys were shocked with a Taser. He was drugged by his interrogators, who then forced him to suffer through withdrawal. Amir was also kept in solitary confinement for months on end and held in a cell so small for the first year of his imprisonment that he could not fully extend his legs. He was allowed to walk outside his cell once a week.
Amir was also kept incommunicado for years. His jailers took advantage of this and falsely told him his mother had been killed in a car accident.
Amir's sister said she learned these details from family members who visited her brother in prison, from other prisoners and, starting in the last year, from five-minute phone calls with Amir that are monitored by his jailers.
Other prisoners have not had even this much contact. Robert Levinson, a former FBI agent, has not been heard from since he was captured in 2007, according to testimony Tuesday from his son, Daniel Levinson. Ali Rezaian, the brother of Washington Post reporter Jason Rezaian, said he last spoke to his brother in July, before Jason was arrested. Naghmeh Abedini has not been able to talk to her husband, the Christian pastor Saeed Abedini, but relatives have been allowed to visit him in jail.
Sarah Hekmati and other relatives of four Americans currently held in Iran spoke to the House Foreign Affairs Committee on Tuesday; the timing and venue are significant. As historian Michael Ledeen has written, hostage negotiations are at least one element of the nuclear talks coming to a close now in Switzerland.
No, John Kerry is not offering to trade more favorable concessions to Iran in exchange for promises to release Rezaian, Hekmati, Abedini or Levinson. But U.S. diplomats have raised their cases on the sidelines of these talks with Iranian officials. National Security Council spokeswoman Bernadette Meehan told me Tuesday: "The only other issue Secretary Kerry and Under Secretary Sherman discuss every time they meet with their Iranian counterparts, other than the nuclear negotiations, are the cases of these four Americans." 
The families of the victims also say that the increased U.S. engagement with Iran has also given them hope that maybe their loved ones will be released in the coming weeks as the June 30 deadline for the talks approaches.
Several lawmakers at Tuesday's hearing said they would not support a nuclear deal with Iran if Americans were still detained. "It would be ludicrous and outrageous to have a deal with Iran that doesn't include bringing home these hostages," said Representative Eliot Engel, the ranking Democrat on the House Foreign Affairs Committee.
One might think that advocates for the four American captives wouldn't mind if they were released as part of a nuclear deal. But at least for Hekmati, this is not the case. According to his sister, he has said he does not want to be a pawn in the negotiations.
As bad as it would be for President Obama to reach a nuclear agreement with Iran while four Americans remained in jail, it would also be dangerous if Iran released the Americans as part of such a deal. The U.S. government has some experience in this when it comes to Iran. As Ledeen knows from firsthand experience, when the Reagan administration gave Israeli arms to Iran in exchange for European and American hostages held by Hezbollah in Lebanon, it emboldened the Iranians. The deal taught them that terrorism and hostage taking can work.
The top advocate for Hekmati in Congress, Representative Dan Kildee, a Democrat from Michigan, called for a clear line in releasing the captives. "The release of Amir and the other American prisoners should be unilateral and separate of any agreement," he said on Tuesday. "If Iran wants to be taken seriously in the global community, Iran has to realize that it cannot hold political prisoners like Amir Hekmati."
All of this is cold comfort though for the families of the Americans held today. As Sarah Hekmati said Tuesday, "It does not make sense to our family how previous American prisoners in Iran have been released when the United States had no diplomatic relations with Iran and were not sitting across from them at a negotiating table, much sooner than Amir."
But in some ways that's the point. Rezaian, Hekmati, Abedini and Levinson today are bargaining chips for a regime that has been taking American hostages since its inception. Why should we expect them to behave any differently this time around?
To contact the editor responsible for this story:
Philip Gray at philipgray@bloomberg.net
Before it's here, it's on the Bloomberg Terminal.
LEARN MORE