Editorial Board
Martin O'Malley's More Than Marginal
At the very least, he can help Hillary Clinton focus her campaign.
by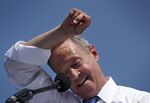 Martin O'Malley's presidential candidacy is unquestionably good news for urban Democrats who like Irish rock bands. It may even appeal to a broader audience.
Any Democrat looking for an electable alternative to Hillary Clinton should welcome O'Malley's candidacy. Before O'Malley entered the race on Saturday, Clinton's lone challenger was Senator Bernie Sanders of Vermont, who does not even consider himself a member of the Democratic Party. O'Malley, the former governor of Maryland and former mayor of Baltimore, is positioning himself to Clinton's left, giving liberals the chance to vote for someone who would have a fighting chance of getting elected if nominated, which is more than can be said of Sanders.
And it's not just Democrats looking for a Clinton alternative: Clinton herself can benefit from O'Malley's campaign. O'Malley will take some of the spotlight away from Sanders, a liberal firebrand, fracturing the opposition vote. A vigorous challenge from O'Malley would also help Clinton dispel the criticism that her nomination is a virtual coronation, and it could help her clarify her positions.
This is the case even when O'Malley is wrong on the issues -- as he is on the Trans-Pacific Partnership trade deal, for example. O'Malley opposes the pact, as does Sanders, while Clinton has been straddling the issue. Ignoring a socialist is one thing. But O'Malley's presence in the race should make it harder for Clinton to be evasive.
O'Malley is more than a foil, of course. Whether his campaign focuses on criminal justice policies and the broader problem of urban poverty -- he tiptoed around each in his announcement speech, delivered in Baltimore -- O'Malley can help to put a spotlight on urban issues.
Read more from this series:
The Other Lindsey Graham 
George Pataki's Curious Candidacy
Rick Santorum's Only Chance
Ben Carson, Political Novice
Carly Fiorina's Best Argument
What Is a Sanders Democrat?
Which Marco Rubio for President? 
It's a Race, Hillary. Start Running.
Why Rand Paul Matters
Ted Cruz Is No Captain Courageous
O'Malley's 15 years as governor and mayor give him more experience as a chief executive officer than any candidate of either party. Policy and personality always trump management expertise in presidential campaigns, which may explain some of Washington's dysfunction. But having good ideas and being able to see them through are two different things. With any luck, O'Malley's data-driven approach to governing will lead to greater media attention on how candidates plan to deliver on their promises.
O'Malley faces long odds: It remains to be seen whether he can catch Sanders in the polls, no less Clinton. But win or lose, his campaign can benefit Democratic voters.
--Editors: Francis Barry, Michael Newman.
To contact the senior editor responsible for Bloomberg View's editorials: David Shipley at davidshipley@bloomberg.net .
Before it's here, it's on the Bloomberg Terminal.
LEARN MORE