Is China Repeating Korea's Mistakes?
The economy is growing on the back of household debt.
by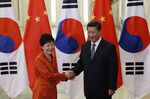 Many observers assume that China is on a path to become the next Japan -- a major economy mired in a multiyear deflationary funk that deflates its global clout. And it's certainly true that the way that Beijing has been downplaying its debt problems is eerily reminiscent of Tokyo's public relations strategy from the 1990s.