The Bell Tolls for Greece, Too, Mr. Tsipras
Both Greece and its creditors need to get more serious.
by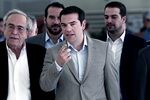 Greece and its creditors are running out of road to prevent a default. So a "J'accuse"-style article by Prime Minister Alexis Tsipras, in which he tries to pin blame for the impasse on the country's creditors and demands that they rethink their approach, is worth a careful read. There seems a good chance that it contributed to the decision of euro-area leaders to hold a top-level emergency meeting on Monday night.