Blatter's Fall Won't Fix FIFA
Soccer needs a devolution of power.
by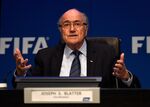 Sepp Blatter is resigning from FIFA. That bears repeating: Sepp Blatter is resigning from FIFA. It's almost impossible to fathom that the ultimate sports dictator was toppled this suddenly, just four days after winning re-election amid snowballing scandal.
What changed since Friday? It looks as though investigators have been quickly closing in on Blatter. Over the weekend, news dropped that his top deputy, Jerome Valcke, allegedly authorized a $10 million bribe to a former FIFA vice president, Jack Warner, from South African officials seeking to host the 2010 World Cup. The concurrent leak of fairly damning e-mails to and from Valcke seemed to suggest that investigators have successfully turned at least one high-ranking witness.  
This calls for a rare celebration in a sports world where there's always work to be done. The pressure of sponsors, with more than an assist from the U.S. Department of Justice, and a continuous barrage of increasingly damning evidence have succeeded in severing the head of the beast.
But the body remains intact. Beaten, yes, but intact.
Blatter will resign once his successor is named, sometime between December 2015 and March 2016. Let's take those months to evaluate how we got here, and how we can move forward, without allowing another dictator to take office. The corruption that has engulfed FIFA for years has occurred relatively out in the open, and with little regard for geographic or economic boundaries. It doesn't stop with one man, one country, one confederation. And as such, neither should power: The goal should be to decentralize authority in an insular organization that has been allowed to police itself. 
Remember, FIFA's own corruption probe found rampant malfeasance reaching the upper echelons of the hierarchy -- and nothing was done about it. That inaction was facilitated by the divide within the ethics committee between its investigative chamber and the adjudicatory chamber, which effectively whitewashed the investigation's findings and refused to release the full report.
Similarly, major reform initiatives are hampered by the geographical and economic splits within FIFA itself. Accusations of racism and imperialism by the Western nations are both myopic and yet not totally inaccurate for an organization that has been historically Eurocentric. This resentment has swelled over years of scandal that have seemed to disproportionately implicate developing countries. Meanwhile, the home office in Zurich has managed to successfully evade capture -- until now.
These divides must be bridged, and the level of corruption from all corners of FIFA's world must be acknowledged. Perhaps one man, representing the interests of one region, shouldn't hold absolute power. That might mean ruling by committee and, as former Blatter challenger Luis Figo of Portugal has suggested, devolving the power to the member associations themselves.
There also needs to be some level of global oversight over soccer's global governing body, so that FIFA isn't just beholden to Swiss laws. Unesco has provided a model framework for such oversight, as evidenced by World Anti-Doping Agency's relative success in policing the International Olympic Committee.
FIFA should also institute term limits so that no singular body -- individual, committee or otherwise -- can wield unchecked power for so long. Michael van Praag of the Netherlands and Prince Ali bin al-Hussein of Jordan, who also challenged Blatter, admirably pledged to serve just one term. 
Money plays a big part in FIFA's corruption, but can also go a long way in its reform. Prince Ali has called for transparency in the bidding process for World Cup broadcast rights. Figo recommends distributing 50 percent of FIFA's revenue directly to the member associations -- about $2.5 billion total over four years. He also sees no need to continue to sit on all of FIFA's $1.5 billion in reserves, calling for its reinvestment by member associations in development projects.
While we're at it, let's throw in reforming the unequitable way FIFA sees women's soccer, a problem exacerbated under Blatter. That games in this summer's women's World Cup will be played on artificial turf is just one example of separate and unequal treatment. 
Most important, perhaps, fans and officials must not to become complacent after this stunning turnaround. Blatter's ouster is monumental, but will be diluted if he is simply replaced by another tyrant. UEFA president Michel Platini is thought to be the front-runner and has been one of the most vocal proponents of reform. But he was also one of the most vocal champions for the terrible choice to let Qatar to host the 2022 World Cup, a decision that should be reconsidered. 
Without proper steps toward transparency and decentralization, a "reformed" FIFA would simply be a repackaging of today's corrupt body. For now, though, let's rejoice in Blatter's resignation and the knowledge that a previously untouchable, historically inert organization can actually be forced into change.
This column does not necessarily reflect the opinion of Bloomberg View's editorial board or Bloomberg LP, its owners and investors.
To contact the author on this story:
Kavitha A. Davidson at kdavidson19@bloomberg.net
To contact the editor on this story:
Tobin Harshaw at tharshaw@bloomberg.net
Before it's here, it's on the Bloomberg Terminal.
LEARN MORE