German Savers Love Russian Banks
Sberbank offers depositors some of the highest rates.
by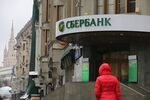 Near-zero interest rates in Europe have made individual deposits an unnecessary headache for local banks: Wholesale funding is cheaper and easier to arrange. There are two banks that exist in a different reality, however: the Austrian subsidiaries of Russia's state-controlled Sberbank and VTB. They very much want Europeans' savings because they know how to play the Russian carry trade.