Facebook Threats Case Is Hardly Over
Rapper gets a retrial, but it's unclear what prosecutors' burden will be.
by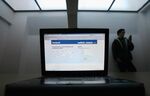 The U.S. Supreme Court has reversed the conviction of Anthony Elonis, the would-be rapper who threatened to kill his wife, an FBI agent and others in a series of poetic Facebook postings. The decision managed to avoid ruling on the ambiguity of poetic threats, and Elonis is almost certain to be retried. Yet because the court left open exactly what will have to be proved at his retrial, Elonis's case may drag on.