Don't Trust Asia's Booming Stock Markets
Herd mentality can move in both directions.
by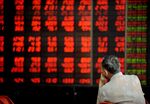 Could a lack of liquidity soon cause Asia's stock markets to crash? That question might seem fanciful at first glance. Central banks in Frankfurt, London, Tokyo and Washington, by keeping policy rates near or below zero, have been responsible for the arrival of unprecedented waves of cash on Asian financial markets. It's no accident that Shanghai stocks are up 137 percent over the last 12 months even as the Chinese economy has slowed; that the Nikkei stock exchange is up 41 percent surge even as deflation returns to Japan; and that South Korea's Kospi index is near record highs even as that country's exports are slumping.
But, as economist Nouriel Roubini recently pointed out, macro liquidity, of the sort created by central banks, can easily be accompanied by illiquidity on financial markets. And when that's the case, he writes, it creates a "time bomb" by intensifying traders' tendency toward adopting a herd mentality.
Consider last week's sudden 6.50 percent drop on the Shanghai stock market. Those panicky hours resembled other "flash crash" moments of recent years: a 10 percent plunge in U.S. stocks in less than one hour in May 2010; the Fed "taper tantrum" in spring 2013; the Oct. 14 jump in U.S. yields; and last month's mini meltdown in 10-year German bonds. The common thread between each episode was a sudden wave of fear among traders that, even with unprecedented liquidity injections from central banks, markets might still be too illiquid.
And today's fears about market illiquidity are, in fact, justified.  As Roubini pointed out, "many investments are in illiquid funds and the traditional market makers who smoothed volatility are nowhere to be found." High-frequency traders and their algorithmic programs account for a growing share of transactions, as do open-ended funds that can exit markets quickly. Meanwhile, banks, which traditionally intervened to stabilize financial markets, are playing a reduced role in trading.
These shifts are turbocharging investors' natural tendency to herd mentality. For now, central banks are reducing stock market volatility by keeping bond yields low. But when surprises occur, Roubini argues, "the re-rating of stocks and especially bonds can be abrupt and dramatic -- everyone caught in the same crowded trades needs to get out fast."
That should especially worry traders in China, where stock valuations are long overdue for a correction. On May 28, China's National Bureau of Statistics said equity earnings drove the country's April rebound in industrial profits -- in other words, executives are padding their profits through share trading. Or consider that the spread between Shanghai Electric's share prices in China and Hong Kong is 257 percent.
It's impossible to know where the herd will shift direction next, but when it does, it's sure to trigger huge market swings with little warning. Right now, stock investors are too busy buying to care. Excessive central bank liquidity has a way of clouding their ability to spot approaching chaos; rising bond yields are markets' way of knowing when things are amiss. Which is probably why nobody will try defusing the time bombs lurking in Asia's stock markets until it's too late.
This column does not necessarily reflect the opinion of Bloomberg View's editorial board or Bloomberg LP, its owners and investors.