Don't Bury the Iowa Straw Poll Yet
Will Iowa's Republican leaders punish Bush, Rubio and Huckabee for bailing out?
by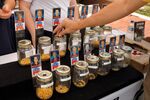 The Iowa Straw Poll (nee Ames Straw Poll) on presidential contenders has fallen on hard times. Since 1979, the quadrennial event has been a beauty-contest vote attached to a fundraiser for the Iowa Republican Party. It has nothing to do with selection of a party's presidential delegates that starts early the next year in the Iowa caucuses, but it has attracted plenty of attention over the years.