China's Military Isn't Worried About Obama
But Hillary Clinton should be worried about China.
by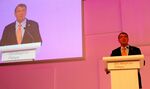 Chinese military officials attending a major security conference in Singapore over the weekend made clear that they have no intention of halting their aggressive activities in the South China Sea, and they are confident that U.S. President Barack Obama is not going to be able to stop them.
At the Shangri-La Dialogue in Singapore, several senior officials from the People's Liberation Army made a rare appearance to mingle with leaders of Asian and Western governments, think tanks and corporations. It was a rare chance to hear what Chinese military leaders really think, through both public and private interactions. The main takeaway for many of us Westerners present was that People's Liberation Army is feeling confident, and it has little respect for an Obama administration that talks big about confronting China but has yet to lay out a clear strategy for doing so.
"A member of the PLA asked me whether, in 18 months if Hillary Clinton is elected president, will she be much tougher on China than the current administration," said Bonnie Glaser, an Asia expert at the Center for Strategic and International Studies. "I said, 'The premise of your question is that in the next 18 months you have enough running room to do whatever you want.' He just laughed."
Glaser and many other U.S. experts and officials in Singapore told me they don't actually agree with the Chinese perception that Obama is weak and his administration has no plan to stop China's building of fake islands on underwater reefs and rock formations in the South China Sea. Defense Secretary Ash Carter and his team do have a plan, they insisted, and the U.S. has many ways to push back on Chinese aggression. For example, the U.S. has already increased its military operations in the area, along with its rhetoric.
The U.S. is just being prudent and stepping up its pressure on China in small increments, this argument goes, such as flying surveillance planes over Chinese "islands" with CNN reporters on board. The relationship with China is delicate, and overreaction to Chinese assertiveness carries risks. American officials said the best course is the kind of diplomacy Carter called for in his remarks on Saturday. Carter expressed hope that China will sign a joint code of conduct with its Southeast Asian neighbors this year.
But those rationales are largely lost on the Chinese military, which interprets American caution as weakness and sees the slow process of Washington policy-making as indecisiveness that can be exploited. A top Chinese admiral, Sun Jianguo,  spoke at the conference a day after Carter and gave no indication China would cease it actions in the South China Sea.
"These constructions fall well within the scope of China's sovereignty and are legitimate, justified and reasonable. They do not target any other countries or affect the freedom of navigation," Sun said. "We should uphold fairness and objectiveness and make assessment of things taking place on the international stage based on their merits or demerits rather than following double standards and making irresponsible remarks based on one's own subjective preferences or tilting one against another."
Sun insisted that China is committed to "win-win cooperation" with its neighbors. I asked the admiral, with whom exactly is China cooperating and who else besides China is winning? He didn't answer.
Other interactions between Chinese and Western officials in Singapore followed the same pattern. Two different conference-goers who met with Chinese officials told me that the Chinese saw further weakness when Secretary of State John Kerry visited Beijing in May.
According to the Chinese readouts, Kerry told his hosts that the U.S. wanted to work with them on a range of issues, including North Korea, Iran and Syria, and the two powers shouldn't let the South China Sea issue get in the way of broader cooperation. Those of us who follow Kerry closely know this is his typical way of talking, and doesn't at all mean he is trying to downplay the South China Sea tensions. But the Chinese interpreted it as a signal that the U.S. was not ready to ready to confront  them.
In Congress, there is bipartisan frustration with what is seen as White House over-caution. The Senate Armed Services Committee leaders, Republican John McCain and Democrat Jack Reed, met with Carter in Singapore to hand him a letter they wrote saying China shouldn't be invited to next year's multinational Rim of the Pacific military exercises in Hawaii. One U.S. official who was in the meeting told me later that Carter was not happy about being confronted on the issue.
Lawmakers also told me they had a hard time figuring out whether the U.S. was going to respect China's demand that U.S. ships stay 12 miles away from its newly built islands. Carter stated clearly on Saturday that China has no right to assert a 12-mile international water control area for reclaimed land. But Admiral Harry Harris, the new Pacific Command chief, told lawmakers that the administration was still debating whether or not to challenge the 12 mile claim.
"There is no 12-mile barrier around these reclaimed lands. To respect that would be a de facto recognition of what the Chinese are trying to achieve," McCain said in Singapore. "We believe that what Secretary Carter said was important. Now we want to see it translated into action."
The Obama administration may be content to play the South China Sea issue cautiously. The president has enough crises on his hands in the Middle East and elsewhere, and the truth is that there may be nothing he can do that would make China's new islands disappear. There is a case to be made that the wisest approach is taking advantage of China's rising unpopularity in the region by strengthening alliances, while very slowly ramping up military pressure.
But for presumptive Democratic presidential nominee Hillary Clinton,  there is more urgency. Already, her prospective Republican opponents are pointing out that as secretary of state, she was the lead of the administration's "pivot to Asia," a policy her advisors have said she will run on. This weekend, Governor Scott Walker of Wisconsin released a statement calling the policy "entirely hollow" and incapable of confronting Chinese naval assertiveness.
"While Secretary Clinton declared in 2010 that freedom of navigation in the South China Sea is in the national interest of the United States, she failed to back up this tough talk with strong action. The Chinese have noticed and acted accordingly," Walker said. "A serious American response is necessary."
China's attitude toward Obama is akin to a patron at an open bar that is set to close down soon. When the next president takes office, he or she will probably have to take a tougher line with Beijing. But while Obama remains in office, the Chinese are are drinking up as much as they can.
This column does not necessarily reflect the opinion of Bloomberg View's editorial board or Bloomberg LP, its owners and investors.