Achtung, Germany Needs Babies
The economy could sputter if today's workers don't create tomorrow's workers.
by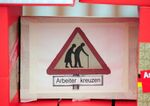 Germany is the 11th most sexually satisfied country in the world, beating the U.S. and China but lagging world leader Switzerland, according to a recent survey by prophylactic maker Durex. Unfortunately, bedroom bliss hasn't been translating into the production of tiny new Teutons. And if that doesn't change, Germans, sexually satisfied or not, will be jeopardizing their country's economic future.
Germany now has the world's lowest birthrate, with the stork delivering just 8.3 babies per 1,000 citizens according to a study published last week by consultants BDO AG and the Hamburg Institute for International Economics. That's worse than Japan's 8.4 rate in the five years through 2013, and way behind world leader Niger, which produced 50 babies per 1,000 people.
Too few births means too few people who will grow up to work, pay taxes and spend money. Germany, already in worse demographic shape than most of its peers, is on a path to serious financial trouble.
The German population has been shrinking since 1970, according to figures compiled by Amlan Roy, head of global demographics and pensions research at Credit Suisse in London. Meanwhile, immigration, which could offset gaps in the workforce, has stalled in recent years. And the outlook for the next five years is for those trends to worsen:

Compared with its European peers, Germany is the only country that will have shrunk in the half-decades between 1980-1985 and 2015-2020:

Germans are also older than their peers, with a median age of 46.3, the highest among 15 European countries ranging from 35.9 for Ireland to 45 in Italy, according to Credit Suisse figures. And by the end of the decade, only Italy will have a worse dependency ratio, defined as the ratio of people over 65 to under 64:

As Roy at Credit Suisse points out, demographics isn't just about how old your population is. While worries about pension affordability are legitimate, the population mix is also important for how the economy performs:
Demographics is about people as consumers and workers and their multiple characteristics, not merely age. To counter the drag imposed by an ageing population on the economy, policy makers as well as the private sector should provide more incentives for women to work, as well as encourage elder workers to stay in the workforce for longer.
Demography is a troubling topic in this day and age (so to speak). The reams of statistics might seem deadly boring at first. But once you learn the dire implications of the West's increased life expectancies colliding with smaller family sizes, you can't help fearing for the future.
Even if Germans tossed out their contraceptives today, it would literally take a generation to raise enough workers to backfill the chasm that's growing there. Europe, in other words, may have to get accustomed to an economic future without Germany as its powerhouse. 
This column does not necessarily reflect the opinion of Bloomberg View's editorial board or Bloomberg LP, its owners and investors.