Monetary Policy for the Next Recession
Independence for central banks only makes sense if they have the tools to do their job.
by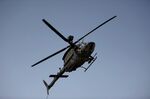 By pre-crash standards, the big central banks have made and continue to make amazing efforts to support demand and keep their economies running. Quantitative easing would once have been seen as reckless. The official term of art -- unconventional monetary policy -- tacitly acknowledged that.