What the U.S. Bombed Before Ramadi Fell
The Pentagon details the damage it did to the enemy's military force.
by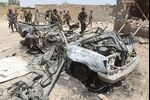 In the month before the city of Ramadi in western Iraq fell, U.S. air strikes destroyed an armored personnel carrier, three humvees, three tanks, four mortars, four gun-mounted pick up trucks and two vehicle bombs belonging to the Islamic State outside the city. On Friday, Lieutenant Colonel Brian Fickel, a spokesman for U.S. Central Command, shared this data with me, adding that the U.S. also hit 25 "fighting positions" and 14 pieces of "miscellaneous equipment."