Editorial Board
Nigeria Needs a New Start
The new president should focus on fixing its corrupt national oil company.
by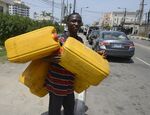 Nigeria's new president, Muhammadu Buhari, who takes office Friday, made history by notching the first defeat of an incumbent president since independence in 1960. Now comes the hard part: getting Africa's biggest economic dynamo restarted.
Two things complicate that task: Boko Haram's deadly insurgency, which has claimed more than 14,000 lives and displaced more than 1.5 million Nigerians, and the recent halving of the price of oil, which accounts for more than two-thirds of Nigeria's government income and almost all its export revenues.
Under these burdens, Nigeria's economy has been sputtering. Its currency has fallen sharply, making imports more dear and stoking inflation. The plunge in oil revenues has forced the government to borrow more than it planned. And a recent back-pay dispute between the government and fuel-distribution companies all but shut down the country.
QuickTake Nigeria's Horrors and Hopes
More fundamentally, Nigeria's once-breakneck increases in gross domestic product haven't translated into shared growth: Unemployment last year was 25.1 percent, the number of Nigerians living in poverty is not decreasing, and the economic divide between the country's south and its north -- Boko Haram's killing ground -- is deepening. Entrenched corruption has afflicted every corner of the economy, making Nigeria a cellar-dweller in Transparency International's Corruption Perceptions Index.
Yet the country also has a rambunctious and demanding middle class, a surging young population, and an increasingly diversified economy that includes one of the world's biggest film industries. President Buhari can't jack up the world price of oil. And while the fight against Boko Haram is making slow progress, it will take years to win. Nevertheless, Buhari can do many things to unleash his country's manifold economic strengths and advance the aspirations of its citizens.
For starters, he can dismantle the state oil company that he helped set up when he was oil minister during the 1970s. It has become a nexus for thievery and incompetence, draining nearly half the proceeds from crude oil sales before they reach the treasury, according to one recent investigation. Buhari has pledged to follow up on that audit. Better still would be to sell the company, or end its majority stake in joint ventures.
He may be initially unwilling to deep-six Nigeria's inefficient fuel subsidies, which the International Monetary Fund says cost the treasury almost 1 percent of GDP in 2014. Yet doing so would strike an even stronger blow against graft than his sensible plans to consolidate Nigeria's corruption-fighting agencies.
To protect the country from oil price swings, Buhari will have to increase its non-oil revenues by reforming the tax system. One of the less painful ways to do that would be to trim the liberal tax exemptions granted to companies. This step alone could raise tax yields by half a percent of GDP, according to the IMF. Yet even assuming greater efficiency (and less corruption and favoritism) in tax collection, Nigeria will have to raise its value-added tax rate, which at 5 percent is one of the world's lowest.
By many accounts Buhari is something of an ascetic, and this should serve him well. To get through the current fiscal crunch while freeing up money for badly needed investment, he will need to impose some austerity on a government apparatus known for high running costs and its well-heeled bureaucrats and legislators. But he should spare aid to sectors that employ the poor (including agriculture) and the striving (small and medium enterprises). That includes finding more ways to extend them credit and get more Nigerians into the formal banking system, an area where the country lags Kenya, South Africa and other African peers. In particular, to blunt the appeal of Boko Haram, he needs to preserve funds for the poorer northeast.
Buhari's assumption of power has done much to affirm Nigeria's democracy. Expectations are high, and he's right to counsel patience. But to fulfill its promise, political freedom must lead to greater well-being.