Netflix Won't Have It Easy in China
Having a catalog of great movies isn't enough.
by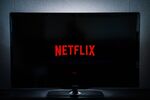 It's no surprise that Netflix wants to expand to China: The country's video streaming market, bolstered by the world's largest smartphone market, is already worth $5.9 billion, and it's set to grow in the years ahead. Nor is it a surprise that China seems interested in Netflix's offerings. The Chinese public, like its U.S. counterpart, has found it hard to resist the melodramatic intrigue of the Netflix-produced show "House of Cards." It was a runaway hit in China, reportedly counting Wang Qishan, China's feared anti-corruption chief, among its fans.