view
Deaths in Ukraine Aren't Putin's Priority
The Russian president is more worried about maintaining deniability for the sake of Western negotiating partners than about keeping information on war dead from Russians
by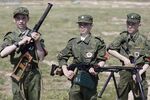 News of Russian President Vladimir Putin's decision to classify more data on Russian military losses prompted many in Russia, Ukraine and the West to draw the facile conclusion that he acted to hide the casualties of his hybrid war on Ukraine. Putin, however, is doing something worse than that: He's telling the country he has ruled for 15 years that he doesn't have to account for his actions. And Russia will acquiesce, as it always does.
On May 28, Putin signed a decree amending a list of classified data approved by his predecessor, Boris Yeltsin, in 1995. One change extends secrecy from just wartime casualty counts to ones incurred during "peacetime special operations." The reaction was immediate. Oleksandr Turchynov, head of Ukraine's National Security and Defense Council, called the move "a clumsy attempt to hide what the whole world already knows -- the war Russia is conducting against out country." Russian anti-Putin politician Ilya Yashin, who recently co-authored a report on Russian involvement in eastern Ukraine, tweeted: "Now those who search for data on our perished soldiers will be jailed." A headline in the Financial Times read "Russia Censors Discussion of Involvement in Ukraine."
That's not what's happening. In legal terms, the decree only means criminal charges for defense ministry officials who disclose casualty data, and for those who obtain the data from them. Getting information from other sources  -- such as the dead  soldiers' relatives, social networks or hospitals -- is not banned, so, technically, Yashin and the journalists and bloggers who have covered the Russian military's losses in Ukraine are safe. "Only the official statistics are classified," said Valentina Melnikova, head of the Union of Soldiers' Mothers' Committees, a non-governmental organization that has long fought for the rights of Russian servicemen. "This cannot hinder us in any way: It doesn't stop the families of the dead and wounded from seeking us out."
The legal side of things, of course, is not particularly important in Putin's Russia: Laws are often applied creatively and selectively. Certainly, the practice of information disclosure doesn't follow any written rules. The so-called Second Chechen War, fought between 1999 and 2009, technically qualifies as a peacetime special operation, not a real war, so casualty numbers were not classified, and the defense ministry regularly reported them; its figures say it lost 3,684 people between 1999 and 2008, when the military's involvement ended and only interior ministry troops were left to finish subjugating formerly secessionist Chechnya. Human rights organizations, such as Amnesty International and the Soldiers '  Mothers' Committees, have always maintained that these numbers are vastly under-reported, and there is no way to verify them. The new decree simply reduces the  pressure on the military to spread disinformation.
Besides, no new law is needed for the continued harassment of journalists and bloggers who try to discover the truth about Russia's military losses. Last year, Lev Shlossberg, a local politician in the northwestern city of Pskov, was severely beaten after trying to investigate the deaths of servicemen from the local airborne unit, though the information he sought was not classified.
More importantly, however, the new decree cannot apply to Ukraine. Putin has always denied, against powerful evidence to the contrary, that Russia is involved in what he calls a civil conflict in eastern Ukraine. Trying anyone for violating the new decree would amount to an official admission that Russia is conducting a "special operation" there, something Russian officials have studiously avoided.
When two wounded Russian servicemen from Russia's military intelligence, GRU, were captured  in Ukraine this month and paraded before television cameras by the Ukrainian authorities, the Russian defense ministry said they were retired, a claim the captured men vehemently denied. Though incidents like this are bad for the morale of the Russian units that aid the separatist rebels in eastern Ukraine, their commanders are willing to take that risk to maintain Putin's pretense. Otherwise the entire architecture of the negotiating process to end the fighting, in which Russia has set itself up as an intermediary friendly to the rebels, would crumble.
Maintaining the fiction of non-involvement to stay roughly within the framework of the February cease-fire brokered by the leaders of Germany and France is a more important goal for Putin than hiding the Russian casualties. U.S. senators may believe tales of mobile crematoria used by the Russian military to conceal casualties in Ukraine (the rebels have told similar stories about the Ukrainian army, but the senators weren't around to hear them), but it's impossible to hide dead soldiers that way. Their families and friends back home find out, and though attempts are routinely made to silence them with threats and gifts of cash, many talk. The social networks, monitored by Russian human rights activists and Ukrainian volunteers, are another important source of information. That's how anecdotal information of casualties made it into the report Yashin co-wrote with the title "Putin. War."
Unsurprisingly, Russians are unhappy to hear their compatriots are dying in a war somewhere. Yet experience shows they are willing to put up with it: Though thousands of servicemen died in the Second Chechen War, there were hardly any protests, and Putin's ratings did not suffer.
Last month, the biggest single group of respondents to a Levada Center poll, at 38 percent, said that even if there are Russian troops in Ukraine, Russia is right to deny it; 37 percent said they believed there were no Russian troops fighting in the Donbas, and only 11  percent said it was counterproductive to deny Russian military involvement. In other words, most people are fine with getting no official casualty data and willing to ignore the flood of unofficial information available on the Internet and from friends.
Putin's decree is a symbolic move in recognition of most Russians' refusal to interest themselves in the truth and its tedious nuances. It says: "Trust me to do things right and save you the unpleasant details." Putin's country already tolerates him on these terms. It's nothing new.
To contact the author on this story:
Leonid Bershidsky at lbershidsky@bloomberg.net
To contact the editor on this story:
Mark Gilbert at magilbert@bloomberg.net
Before it's here, it's on the Bloomberg Terminal.
LEARN MORE