Stop Calling China a Currency Manipulator
The yuan deserves a shot as a reserve currency.
by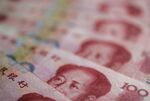 Christine Lagarde's people say China's currency is no longer undervalued. Jacob Lew's argue it still is. There's a lot at stake in the debate: The yuan can't gain status as a global currency reserve if China is thought to be manipulating its value. So who should we believe, the head of the International Monetary Fund or the U.S. Treasury Secretary?