Now Union Opposes the Minimum Wage
An exemption in Los Angeles would let union workers undercut others.
by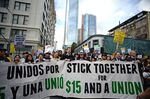 As readers of this column know, Los Angeles recently decided to raise its minimum wage to $15 an hour across the board, including even tipped workers like waitstaff. A lot of businesses opposed the new rule on the grounds that it would make their operations unaffordable. Now a new group is joining them in saying the law's not right for their operation: union leaders.