GOP Split: What to Hate About Obamacare
They can't replace the Affordable Care Act if they can't agree on what's wrong with it.
by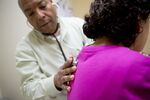 Republicans dislike Obamacare: The party is unified on that issue. But they don't all dislike it for the same reasons, and their disagreements help explain their continued inability to figure out how to respond to a Supreme Court decision on the law that's expected by the end of June.