FIFA Faces the Nuclear Option: World Cup Boycott
With sponsors piling on, will the world body lose control of the sport?
by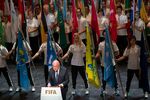 The fallout from the FIFA arrests has only just begun, with renewed calls from politicians and soccer officials for president Sepp Blatter to step down. That's unlikely: Blatter is expected to win re-election to a fifth term in Friday's vote, which will continue despite the organization's turmoil. But the calls from some previously silent voices are an encouraging sign that the rampant corruption in soccer's world governing body can no longer be ignored.