Hillary Clinton and the New Litmus Test
Activists wanting to kill Citizens United have too much influence.
by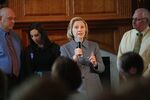 You might have missed the news that John Paul Stevens, the retired U.S. Supreme Court justice, criticized Democratic presidential front-runner Hillary Clinton last week for her announcement that she would nominate to the court only individuals committed to overturning the 2010 decision in Citizens United v. Federal Elections Commission. Stevens doesn't like the decision any more than she does -- his dissent ran to 90 pages -- but he likes litmus tests even less.