FIFA's Corporate Sponsors Abet Soccer's Corruption
While DOJ investigates bribery, fans should look at companies behind the soccer association.
by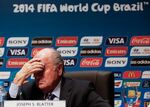 The hammer finally came down on FIFA, the world governing body of soccer that has been long been viewed as a morass of corruption. And it came from an unlikely place: the U.S. Department of Justice.