FIFA's Not-So-Beautiful Game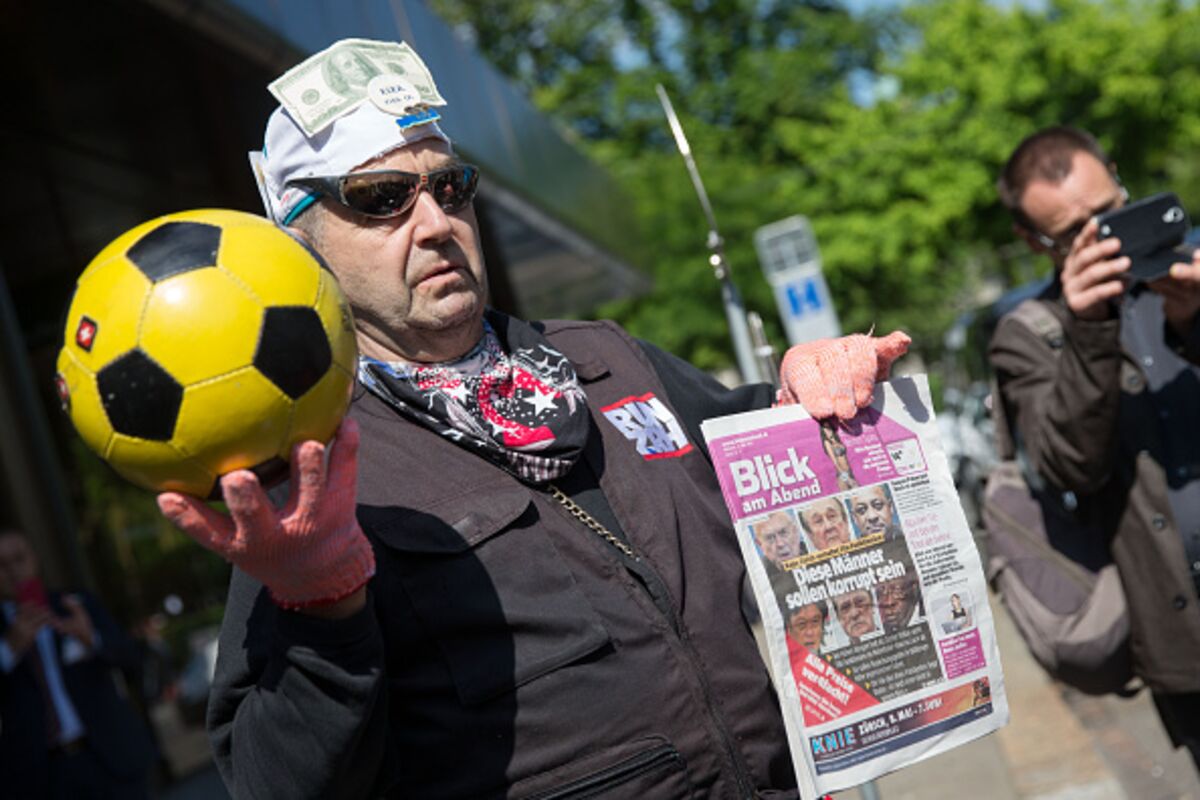 Photographer: Philipp Schmidli/Getty Images
Even by its own standard for hubris, which is quite high, FIFA had an astonishing response to its latest scandal. Soccer's ruling body says Wednesday's indictment of 14 people on corruption charges won't delay its presidential election or cause it to reassess the 2018 World Cup in Russia or the 2022 tournament in Qatar.
It should. FIFA needs to postpone the election and move the tournaments if they were -- as the U.S. Justice Department alleges -- awarded under false premises. There is no shortage of willing and able hosts, especially if previous ones are considered, and they would have three years to prepare.
FIFA's record of truculence is not encouraging. Its own two-year investigation into how Russia and Qatar won their World Cup bids was never released in full, causing the man who led it to resign in protest. Wednesday's arrests -- at one of the five-star hotels where FIFA officials typically meet; this one happened to be in Zurich -- stem from an investigation into racketeering, wire fraud and money laundering related to the selections of Russia and Qatar.
But FIFA's corruption is not limited to criminal behavior. At last year's World Cup tournament in Brazil, for example, all 28 members of FIFA's executive committee were given Parmigiani watches, worth more than $20,000 apiece. What were the watches for? Why were the gifts, discreetly left in their hotel rooms by the Brazilian soccer federation, not revealed until September? Once they were, FIFA belatedly ordered the recipients to return the watches.
Qatar's successful petition is the most serious of FIFA's indiscretions. The $200 billion that the tiny nation plans to spend on the World Cup dwarfs the $11.2 billion Brazil spent on last year's competition, and it is 10 times what Russia is investing for 2018. The construction of Qatar's stadiums has been plagued by allegations that its builders are treated as no better than indentured slaves. The deaths of more than 900 workers since the project began suggest health and safety aren't exactly priorities.
Moreover, the tournament typically takes place in the summer, when the European season is over. But Qatar's original plans for air-conditioned venues to combat the desert heat proved impractical. So FIFA simply decreed that the competition would take place in November and December. Disrupting the sport on its most lucrative and popular continent was not a concern.
Wednesday's hotel raid scooped up FIFA officials who were gathering to elect a president. Joseph "Sepp'' Blatter, who has had the job since 1998 and is standing for re-election, isn't on the list of officials in the Justice Department crosshairs. He merely oversees an organization the department accuses of "corruption that is rampant, systemic and deep-rooted, both abroad and here in the United States."
Whether Blatter should resign is almost irrelevant at this point. With Wednesday's indictment, his legacy is secure. For the sake of the sport, however, FIFA should suspend its presidential election. And, if there is good evidence that the host nations for the next two World Cups were chosen improperly, it should reopen the bidding process.
To contact the senior editor responsible for Bloomberg View's editorials: David Shipley at davidshipley@bloomberg.net.