FIFA Awakened a U.S. Giant
It's no coincidence that Americans took notice after being passed over to host the World Cup.
by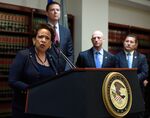 The U.S. is not the world's most soccer-loving nation. Yet it is U.S. law enforcement that is suddenly at the forefront of the attack on soccer's global governing body. Today it indicted nine current and former FIFA officials for allegedly taking part in a corruption scheme that's been going on for 24 years.