Paying for Print, Skipping the Ads
The shift has ravaged newspapers, done little harm to books.
by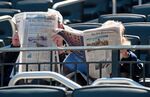 Hope you did something fun during your holiday weekend. Me, I alphabetized a bunch of books and threw away a ton of magazines. Which got me wondering. Did my lost weekend indicate something significant about the differing fortunes of text-based media? Does it mean that books possess some special set of attributes that render them better able to survive in a digital age?