Who Caused the Senate Chaos?
McConnell can be blamed for a lot, but not the Patriot Act mess.
by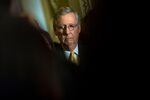 Mitch McConnell took plenty of grief last weekend for the Patriot Act fiasco, after the Senate failed late Friday night to adopt any option for reauthorizing several of the law's provisions. They are set to expire on Sunday night unless Congress acts.