Obamacare's Intent? Just Read the Law
Courts shouldn't ask bills' authors what they meant to write.
by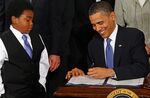 By the end of next month, the Supreme Court will have released its decision in King v. Burwell, the case that will determine whether subsidies will be available for insurance purchased through a federally operated exchange. The plaintiffs say this is impermissible, because the law provides for subsidies only for policies purchased on exchanges "established by the state", probably inserted in the law as an inducement to states to set up exchanges. The defenders of the status quo argue that this is insane, because they'd never structure the system so as to risk having needy people lose subsidies, and because no one who actually worked on the law remembers having any such intention.