Death of John Nash and His Beautiful Ideas
He changed economics as much as Adam Smith.
by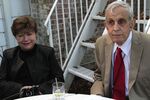 John Nash, one of the pioneers of game theory, died in a car crash Saturday, along with his wife. He was 86 years old. The world will be a poorer place for his passing.