China Didn't Invent Industrial Espionage
The U.S. has been doing it for centuries.
by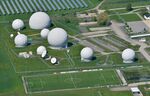 The U.S. Justice Department last week charged six Chinese scientists for stealing trade secrets and engaging in industrial espionage on behalf of China. A separate case, announced Friday, involved the former chairman of the physics department at Temple University, a China-born U.S. citizen who allegedly passed along semiconductor technology while working at an unnamed American company.