You're Sinatra's Cousin, Too
The logic behind the whole-world family reunion.
by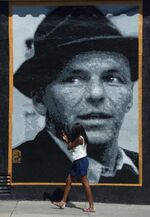 In case you haven't heard, the world's first Global Family Reunion will be June 6 in New York City. The invitation list runs to 7 billion people: Earth's entire population. So far, 77 million of them have a proven connection to the world's biggest family tree, created by A. J. Jacobs, the reunion's mastermind, who is fascinated that many millions of people can find familial connections to many millions of other people, past and present. You're a cousin, so you're welcome to attend.