Could Gay Marriage Reunite Ireland?
The referendum is about a lot more than just gay rights.
by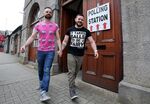 The Irish have become the first people in the world to legalize same-sex marriage by referendum. It's an astonishing statement about the pace of cultural change in a country where more than 80 percent of residents identify as Catholic. It's also a hopeful development for gays and lesbians in other nations: Countries with strong religious opposition to homosexuality can evolve.