U.S. Bets On Egypt While Ignoring Tunisia's Success
Short-term strategic thinking may hurt U.S. interests in Africa.
by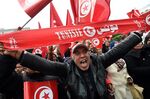 Thursday morning, before their Oval Office meeting, the presidents of the U.S. and Tunisia joined to co-author a Washington Post op-ed article affirming the closeness and strategic importance of their nations' relationship. Reading it, one might think the two countries are on the same page. Unfortunately, that would be an incorrect analysis.