Republicans May Have to Save Obamacare
Party could take the blame for Supreme Court ruling.
by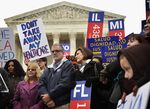 A Wall Street Journal editorial Friday predicted what would happen if Republicans won the King v. Burwell case, which the Supreme Court is expected to decide any week now. The Journal said that if Obamacare subsidies disappeared in states with (mostly) Republican governors, there could be another "friendly-fire massacre" as people blamed the party for the collapse of the individual insurance market.