How Media Is Consumed After Letterman
A show once taped on VCRs now is sampled on YouTube.
by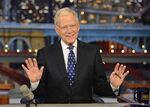 The past month has seen an outpouring of tributes and praise for the just-retired "Late Show" host David Letterman. I have been linking to some of the more informative (and amusing) discussions in the morning reads (see this and this). None have really captured the context I was looking for: what does this tell us about the future of media consumption in the changing technology, media and social landscape?