No Safe Haven in Hong Kong
The messiness of China's stock markets is spilling across the border.
by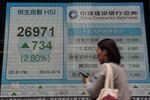 Everyone's long known that China's stock market is a rigged, non-transparent mess. That's a problem for Beijing certainly, but it's also now a problem for Hong Kong, once considered the gold standard for global financial hubs.