Friday Food Post: What to Make This Memorial Day Weekend
You can do better than just a hot dog.
by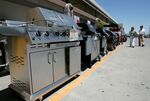 Are you looking at a weekend of cookouts, visiting family and oh-my-gosh-what-am-I-going-to-cook? Here's my "best of" list to get you through the weekend. Some of these recipes are new, and some you've seen before, but all are on the list for one reason only: These are a few of my favorite things.