Boy Scouts Yield to Equality's March
Acceptance of gay leaders reminds us that courts can't reverse discrimination alone.
by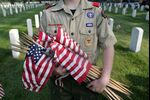 It's official: The Boy Scouts of America, headed by former Secretary of Defense Robert Gates, thinks the U.S. Supreme Court is about to create a right to gay marriage. There's no other logical explanation for why they chose Thursday to announce that they plan to stop banning gay scoutmasters.