Takata Is the Real Safety Hazard
The company's culture of irresponsibility is worse than its airbags.
by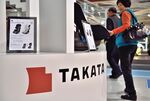 The dubious honor of triggering the largest consumer recall in U.S. history -- once held by Johnson & Johnson's Tylenol -- now belongs to the Japanese auto parts supplier Takata. Thirty-four million of the company's airbags, having been determined to have caused at least six deaths and injured more than 100, will have to be replaced. But it's not too late to hope some good can come from this misfortune. Ideally, it will serve as a wakeup call for the Japanese government and the global auto industry.