The Way Out for Greece
Don't send cash. Austerity isn't the problem.
by and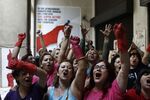 A widely told narrative of the economic crisis in Greece holds that it is the product of excessive austerity, imposed by arrogant outsiders who misread the situation. The only way out, the story goes, is to break the resulting recessionary spiral with a policy of fiscal stimulus.