view
NFL Takes San Diego Hostage
Study finds the city would shell out $1 billion to keep the Chargers.
by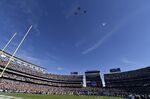 As the old saying goes, "If you threaten to build it, they will come."
Alright, so maybe that's not quite what Shoeless Joe meant in "Field of Dreams."  But the San Diego Chargers are proving it once again to be true. All a team needs to do is threaten to leave town and its current city will come running with fistfuls of cash.
On Monday, amid threats by the Chargers to bolt for Los Angeles, a task force commissioned by San Diego mayor Kevin Faulconer released a proposal for financing a new stadium in Mission Valley, the site of the team's current home, Qualcomm Stadium. The Citizens' Stadium Advisory Group plan for the $1.3 billion venue will not require a public vote (surprise) but will require tons of public funding.
The plan promises no new taxes to offset the cost, relying instead on financing from the Chargers and the NFL: $300 million from the team and $200 million from the league. But the public cost detailed in the plan isn't insignificant: $121 million each from the city and county, and city-owned land valued at $180 million. The advisory group also estimates $116 million from a state program to pay for infrastructure improvements, including parking and mass transit around the site. And there's $40 million in taxes from the proposal's new, on-site hotel, of which the city won't see a dime because it will pay for more improvements. That's already $578 million taxpayer dollars sunk into this project.
And it doesn't end there. As an analysis by the nonprofit news organization Voice of San Diego concludes, the report conveniently omits several other sources of public money required to bring the plan to fruition. The National University System Institute for Policy Research notes the plan leaves out the cost of operating and maintaining the stadium, estimating that to be between $217 million and $327 million. And the plan includes a beautiful new park next to the San Diego River, which will likely require $20 million to $25 million in state and federal funding. These costs could be abated by an increase in private funding or irregularly high revenue from other stadium events, but as it stands, the total hit to public coffers may be close to $1 billion.
By now, the myth that new sports facilities benefit the local economy has been sufficiently dispelled. Study after study has found no evidence that they yield any significant return in the promised forms of income growth or job creation. But politicians continue to tout that fallacy to justify handing over boatloads of cash to wealthy teams for unnecessary new stadiums.
The fight over a new team in Los Angeles shows that teams are incredibly calculated in their strategy of holding their existing cities hostage. The Chargers, Oakland Raiders, and St. Louis Rams are all competing for the chance to move to Los Angeles, or at least publicly threatening to do so to see just how much they can squeeze out of their local governments. And they're getting a boost from their compadres at other organizations, with various owners stating that football in Los Angeles is a foregone conclusion. "It's not a matter of 'if' now, but 'when,' " Indianapolis Colts owner Jim Irsay told the San Francisco Chronicle. San Francisco 49ers chief executive Jed York explained that the franchises' current cities haven't made enough of an offer to keep their teams in town. "I think L.A. is much further along than any of the home markets at this point," he said.
Keep in mind that the city of San Diego has basically offered to fork over a billion dollars to the Chargers and that's still not enough. The league isn't even subtle about it: After the CSAG revealed its plan, reports came down that NFL officials felt it requires "too much team money."
This is basically billionaire-owner speak for, "This is a stick-up." And time and again, cities fail to learn from their mistakes and approach their teams with their hands up, begging them to take the money and not run.
To contact the author on this story:
Kavitha A. Davidson at kdavidson19@bloomberg.net
To contact the editor on this story:
Tobin Harshaw at tharshaw@bloomberg.net
Before it's here, it's on the Bloomberg Terminal.
LEARN MORE