Four Charts Explain Cable's Merger Mania
Subscribers ditch the TV bundle but keep cheaper broadband Internet.
by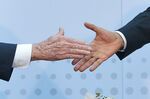 With federal regulators having made clear that the No. 1 cable company (Comcast) wasn't going to be allowed to buy the No. 2 (Time Warner Cable), things are getting really interesting for everybody but No. 1. "This is a very attractive market for us that'll be consolidating for many years to come," Altice Chief Executive Officer Dexter Goei told analysts Wednesday while discussing the Luxembourg-based company's acquisition of 70 percent of U.S. cable provider Suddenlink. Goei didn't expand on the possibility that Altice might bid for Time Warner, but that's in the air now too.