Erdogan Should Campaign for Singing Women
There can be no justification -- or honor -- in trying to kill a woman for performing on TV.
by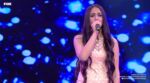 In the midst of a fiercely fought election campaign in Turkey, 19-year-old Mutlu Kaya has been shot in the head for entering a TV singing talent contest. Her plight would make a better campaign theme than the one President Recep Tayyip Erdogan and his ruling party are using.
Kaya was shot in Dyarbakir, a conservative, mainly Kurdish city in eastern Turkey. According to Turkish news reports, an assailant fired through a window of her family home late at night and put a bullet in her head. Her former boyfriend -- who admits being at the scene and opposing her participation in the singing contest, "Sounds so Beautiful," but denies shooting her -- has been arrested. She remains in serious condition, doctors may start waking her today.
So-called honor killings are a brutal fact of life in this part of the country and a tough, deeply rooted cultural nut to crack. This attempted murder bears some of the hallmarks. So what better moment than an election campaign for a president to highlight the problem?

The attack on Kaya comes in the midst of a campaign in which Erdogan has turned religious values into a kind of sorting hat for the electorate, pressing them to take sides based on which party is more devout.
These elections are especially important, because Erdogan needs a sweeping victory for his party if he is to secure a super-majority to approve a new constitution that would concentrate power in the presidency. And this time he can't so easily turn to campaign themes that served him well in the past. He can no longer run as the underdog, because he has subdued the military that dominated Turkey for much of the Republic's existence. Nor can he rely on his economic record to win, because the economy has stagnated, with growth falling to 2.9 percent in 2014, from almost 10 percent at the last parliamentary election, in 2011.
So, increasingly, the AKP has come to define itself by its conservative values, weighing in on how many children women should have (at least three), or how they should behave in public (blush, don't laugh). Now Erdogan is campaigning on religious values to secure his super-majority, particularly in the conservative, Kurdish areas where Kaya lives. The math of Turkey's electoral system makes Kurdish votes vital to Erdogan's success in the June 7 vote. 
On the campaign trail, he has accused the People's Democracy Party (HDP), the AKP's main competitor for Kurdish votes, of being irreligious, while waving a newly produced Kurdish language translation of the Koran:
They have nothing to do with religion. Look, the Religious Affairs Directorate, which they want to shut down, has printed the Koran in Kurdish for you.
The HDP comes from the secular part of Kurdish tradition and stands out for the large number of female candidates it fields. The party is holding  the AKP and Erdogan's rhetoric responsible for the May 18 bombing of two of its regional offices. And it is into this febrile atmosphere that the shooting of Mutlu Kaya, a green-eyed teenager with a melting voice, has fallen.
Erdogan was no doubt as horrified as anybody else by the crime and telephoned her devastated father. And there is no reason to believe the tenor of the election campaign contributed to the attack on Kaya, or that it was religiously motivated. While the president may have backward views on the proper role for women in society, he too should be disturbed by the fact that in Turkey, violence against women has been rising. 
The shooting of Kaya (her full name translates to English as Happy Rock) should highlight the shallowness of exploiting religious feelings to polarize opinion and score votes. Turkey has real problems to solve -- including a stalled economy, a deteriorating rule of law and an enduring culture of violence against women. 
Erdogan's vast political talents would be better used to drive home the message that there can be no justification, nor any shred of honor, in abusing -- let alone shooting -- women for the choices they make. Indeed, why not seize the opportunity to encourage women to pursue their talents, including singing? He would surprise everyone.
Doing so might win fewer votes for the AKP than Erdogan's more polarizing message, which aims to electrify his conservative base. It would, however, be more fitting for a president who is seeking a vote of confidence from 75 million Turks, of all political persuasions, to concentrate power in his hands.
This column does not necessarily reflect the opinion of Bloomberg View's editorial board or Bloomberg LP, its owners and investors.