Could Palmyra Be a Turning Point for Syria?
A similar assault in 1991 changed the course for Serbs in Croatia.
by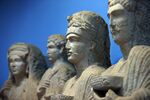 Islamic State has just taken the city of Palmyra in Syria, putting at risk its magnificent ruins and raising two questions: Why did the government and its military not fight harder to hold the town and its oil fields? And will the Islamist radicals now engage in an orgy of cultural destruction, as they have done in Iraq?