A Messy Answer Beats 'Too Good to Be True'
Reward journalists and academics for good research, not stunning results.
by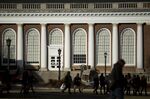 A really breathtaking academic fraud has the makings of a really well-written whodunnit. When the ending is revealed, you can look back and see all the clues that pointed you to the answer. And yet you can also look back and see yourself stumbling along in the dark, blindly following miscues down the false trail.