U.S. Needs Iran to Beat Islamic State
Partnering with Shiite forces is the lesser of two evils.
by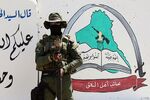 The fall of the Iraq city of Ramadi to Islamic State is significant -- but not because of the strategic importance of the capital of the Anbar province. Rather, the failure of Iraq's official security forces emphasizes a fundamental quandary facing the anti-Islamic State coalition.