Patriots Owner Remembers Who His Friends Are
When it comes to real power and loyalty, it's not the players who matter.
by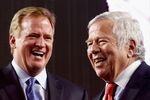 New England Patriots owner Robert Kraft announced at a news conference Tuesday that the team has "reluctantly" accepted its Deflategate punishment, declining to appeal the team's $1 million fine and loss of two draft picks. It seems Kraft and NFL Commissioner Roger Goodell have officially kissed and made up. Did we expect anything less?
The league and the team reportedly had been negotiating behind the scenes for a settlement to avoid litigation; it's not clear whether the two sides reached an agreement. Meanwhile, the NFL Players Association still intends to appeal quarterback Tom Brady's four-game suspension.
So what accounts for Kraft's sudden turnaround? For months, we've heard nothing but blistering rhetoric from Kraft, who publicly demanded an apology from the NFL and as recently as two days ago denounced both the punishment and Ted Wells' investigative report on the deflated footballs. It seemed Kraft was ready and willing to use every ounce of his clout as arguably the most powerful owner in the league -- not to mention as the closest owner to Goodell's inner circle, even if that meant burning some bridges with the commissioner.
It came as a surprise, then, when ESPN's Adam Schefter reported that Goodell and Kraft had met over the weekend -- "and even hugged." How did Goodell sweet-talk his way back into Kraft's good graces? Many think Kraft simply realized he wasn't likely to win in litigation against the league and decided to stop fighting a losing battle. That's probably true. But Kraft was also very upfront about his desire to maintain league unity.
"What I've learned over the last two decades is that the heart and soul of the strength of the NFL, that it's a partnership of 32 teams and what's become very clear over those two decades [is] that at no time should the agenda of one team outweigh the collective good of the full 32," Kraft said in his statement Tuesday. It's possible Kraft got the feeling during this week's owners' meetings that he didn't enjoy the support of the majority. And the most important factor in the NFL's unwavering power is the unwavering, united front presented by teams' front offices.
It'll be interesting to see what, if any, effect Kraft's concession might have on Brady's appeal. The NFLPA has already called for a neutral arbitrator to oversee the proceedings, but as of now, that job still falls to Goodell. If anything, the importance of solidarity among the owners also shows that the fights that matter aren't between owners, but between owners and their players, as we've learned from recent disciplinary battles and collective bargaining negotiations.
In the long run, Kraft's loyalty, and the basis of his power, lies squarely with his ownership counterparts, not with Brady. Perhaps he just needed a reminder of who his true friends really are.