Rubio Has Two Paths to GOP Nomination. Or None.
Senator risks falling into chasm between party's two camps.
by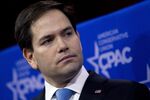 The seeming free-for-all in the Republican presidential field is neither free nor truly for all. The entropy of candidacies will soon cease. And at some point next winter, Republican primary voters and money shufflers will take up the task of winnowing conservative politicians.
Where will Marco Rubio be then?
Currently, Rubio is in a delicate, yet potentially advantageous, position. Like fellow Floridian Jeb Bush, Rubio is acceptable to the Republican power wing (often called "the establishment;" ye shall know them by the size of their wallets). But the young senator also has the capacity to play on the other side of the party, where Wisconsin Governor Scott Walker and a host of others are seeking to carry the banner of "True Conservatives" (so-called in honor of my colleague Jonathan Bernstein).
Neither the field of Republican candidates nor their respective positioning is fully set. No one dominates in polls, and Rubio in particular has room to increase his share of the Republican vote. "All of the candidates are trying to distinguish themselves," said Republican consultant David Winston, an adviser to House Speaker John Boehner. "All of them have to do a lot of expansion" to increase their vote shares.
Bush has clearly staked his claim in the party's power wing. Walker appears to be in the pole position among those angling to be the true conservative counter to Bush. The Democratic polling firm Public Policy Polling, using a survey question specifically designed to highlight the obsessions of the Republican base, found Walker with a sizable lead over Bush and Rubio among the third of Republican primary voters who claimed to believe that the federal government is attempting to "take over" the state of Texas.
Whether those poll respondents genuinely believe that the federal government plans an armed occupation of one of the 50 states it already occupies isn't necessarily relevant. A "yes" to the question is a pretty good proxy for declaring oneself an Obama-hating, anti-government stalwart of the GOP base. Walker has evidently struck a chord that the base's paranoid stylists hear loud and clear.   
Rubio has been straddling these two camps, impressing key members of the power wing behind closed doors while attempting to signal true conservative bona fides as an aggressive foreign interventionist and protector of "American strength." The question is whether his straddle is a source of weakness or strength. On the one hand, Rubio doesn't appear to be the first choice of either camp. For Rubio to rise to the top of one side or the other, Bush or Walker would have to falter. On the other hand, as former Democratic consultant Robert Shrum noted, Rubio isn't restricted to a single path to the nomination. "He has two tracks," said Shrum. "And that's a real advantage."
Winston said it's too early to draw either conclusion. Among candidates, "this is a slow process of people putting their cards on the table," he said. "Once they do that, then you can see what hands they play." The Republican electorate is no more solidified than the candidacies appealing to it. "I don't think the audiences are clearly defined," Winston added.
Still, it's unlikely that more than a small handful of Republican candidates will make a viable run for the nomination. So far, Bush, Rubio and Walker appear to have the greatest traction. If Bush proves unable to soothe fears of his heresies on immigration and Common Core, or punch his way out of his brother's legacy of failure, Rubio will be there to pick up the pieces. Likewise, if Walker gets sent back to the minors -- it's not yet obvious that he has the political skills and expertise to excel at the presidential level -- Rubio is poised to crank up the outrage and compete as more of a true conservative.
But if Bush manages to solidify his power camp, and Walker rallies the base, Rubio's straddle will grow increasingly untenable. He risks disappearing into the chasm separating the power wing from the true conservatives. 
This column does not necessarily reflect the opinion of Bloomberg View's editorial board or Bloomberg LP, its owners and investors.
To contact the author on this story:
Francis Wilkinson at fwilkinson1@bloomberg.net
To contact the editor on this story:
Zara Kessler at zkessler@bloomberg.net
Before it's here, it's on the Bloomberg Terminal.
LEARN MORE