Germany's Bad Idea to Legalize Pot
Easing the ban will only help the black market.
by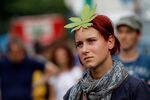 The idea of legalizing cannabis is gaining momentum in Germany. It's getting surprising support from parts of the political spectrum that have historically been hostile to the idea. Yet the measure, if adopted, could make it harder for Germans to get marijuana.