India's Man of the Future Must Break With Past
"Creative incrementalism" won't get Narendra Modi where he or India want to go.
by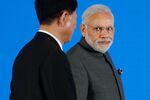 When he was elected as India's Prime Minister one year ago, Narendra Modi earned a handsome mandate for one task above all else: to revive the economy and deliver jobs and prosperity to India's 1.25 billion people. The good news is that Modi remains committed to his vision for India's future -- a country with world-class infrastructure, factories, new cities and skilled workers. In India's political economy, it takes some courage to stick to such a modernizing vision even as the opposition tries to paint the agenda as pro-rich.