16 Questions for Hillary
The former secretary of state needs to clear a few things up.
by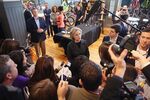 As her campaign for the presidency kicked off, Hillary Clinton managed to go 27 days without answering a question from the press. On Tuesday, she broke that streak. Here are a few questions reporters might want to ask the next time she decides to give her prospective subjects an opportunity to get unscripted answers from her.